MERCY SHIPS' REQUEST FOR ASSISTANCE
In late May or early June I received an email followed by a phone call from the Mercy Ships international office in Garden Valley, Texas, asking me if I'd consider helping them out on the M/V Anastasis, one of their large hospital ships, during it's shipyard phase in South Africa. I had volunteered my technical services three times before on this ship, and once on two of their other ships over the last fourteen years. So I began thinking and praying about the possibility of yet another time of serving the Lord with Mercy Ships. Before I had even made up my mind, nearly all of the necessary finances to make this long trip had materialized from several sources! It appeared that God had His hand in this. I began searching for a plane ticket and originally wanted to go via London to stay a few days so I could break up the long trip, get over jet-lag, and visit friends, but it was going to cost an additional $500, so I opted for the direct flight from Atlanta to Johannesburg. So, on the EARLY morning of July 27th my parents graciously drove me to the Dallas/Ft.Worth airport to begin my long journey...
UNEXPECTED DIVERSION TO ENGLAND!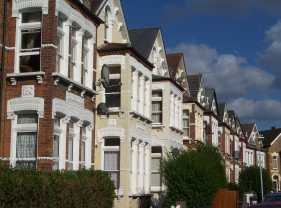 The first leg of my trip was on Delta Airlines to Atlanta and upon my arrival I found out that South African Airways was on strike so my flight to Johannesburg was canceled (hmmm, why didn't they tell me that in Dallas?). SAA personnel in Atlanta scrambled to try to find another carrier to get me on my way, but there was none available. They told me that they could get me to Europe on Delta and from there I could catch the next available flight to Johannesburg. "How about London?," I asked. Within minutes I had a reservation on the overnight flight to London! In the meantime SAA provided me with a room at a nice hotel with food vouchers!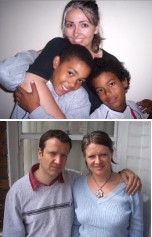 When I arrived in London, my check-in bag didn't. No big deal because I always pack a few shirts, socks, toiletries, and other necessities in my carry-on bag. I filled out a report form and was told that Delta would allow me to buy some replacement clothes to use in the absence of my lost bag, and supposedly they'd pay me £25 (nearly $50) for each day that I was without my luggage (7 days total). And because of the inconvenience, South African Airways was to pay all my living expenses in London while I awaited the next available flight out.
So, upon landing in London I took a train from Gatwick airport to Lewisham to my friends' house (the Walkers) where I got some rest and began adjusting to GMT time. As it turned out the Walkers were in the process of packing and moving to another house not far away, so I was able to help them in the big task of moving. One blessing in London was to get better acquainted with Andrew and Teresa Whyte and family. We spent a couple of evenings together, and Andrew and I had several amazing theological discussions that week. While in London I also got to spend an evening with Pari Rickard. I heard him preach at a church in London and then we went out for Turkish food. [Pari was the youth pastor at CCF until last year; he and his family are north of London now]. My 7-day time in London was certainly a God-thing. Altogether, including vouchers from Delta and expense reimbursements from SSA, my unplanned London detour wound up being about a $500 bonus...the figure it was originally going to cost me to fly via London!

Another amazing thing about the London diversion is that when I had first arrived at the Dallas/FW airport on July 27th the ticket counter people were confused because their records showed that I was booked for an August 4th flight to South Africa...but my printed ticket was for July 27th. In Atlanta they saw the same Aug. 4th booking and scratched their heads. On Aug. 1st I went to the South African Airways office in London to try to work out the continuance of my trip and the soonest they could fly me out was on...August 4th! Obviously God knew all along that I'd be flying to South Africa on the 4th, but from London, not Atlanta! Also, after I had originally booked my tickets in Texas I wished I had planned to stay a bit longer in South Africa so I could sail to Cape Town on the Anastasis and then fly back from there, but the special fare I had would not allow me to change the location of departure, only the date. But because the SAA strike caused me to miss the first week of my time on the ship, they allowed me to reschedule my return from Cape Town about ten days later for no charge!
Whatever happened to that lost check-in bag, you ask? I kept calling Delta's London office all week long but it never showed up. But while on my layover in Johannesburg (en route to the port city of East London, South Africa), I decided to stop by the "lost and found" office, and there it was, waiting for me, as if it was planned ahead of time to prevent me from having to tote it around London all this time! Only God could've seamlessly planned it all as He did, turning what some would've considered an incovenience into an adventure with a purpose.
ABOARD THE ANASTASIS IN SOUTH AFRICA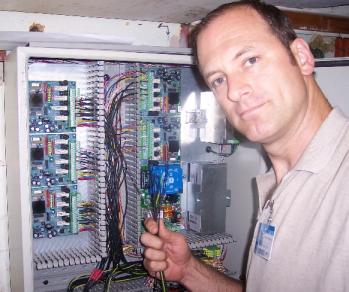 I finally arrived in East London, South Africa on August 5th and after a relaxing weekend I began working in the electrical department aboard the Anastasis. I was assigned the project of installing a new fire sprinkler system in the engine & generator rooms on the ship. This system was being required for certification before the ship would be allowed to sail next. It was a long, detailed project, pulling cables through tight spaces (getting all greasy and dirty), and wiring up all the control panels and motorized release valves. I had plenty of exercise walking up and down the many flights of stairs in the engine room and throughout the ship. Besides the sprinkler system project, I also took turns as "duty electrician," being on call for various electrical problems that arose on the ship.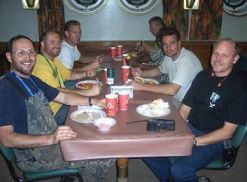 Community life aboard the ship was fun and at times a bit challenging. There are men, women & children from about thirty different nations from all over the world serving on the Anastasis. As has been the case on previous times I've served on the Anastasis and Caribbean Mercy ships, it was a rewarding and learning experience to mix with other cultures and develop friendships. As a tall person I have a few challenges on this old ship built for short people! Ducking and dodging the lights and sprinkler heads is a constant task, and managing to cope with a short bunk is always interesting.

SOUTH AFRICAN EXPERIENCE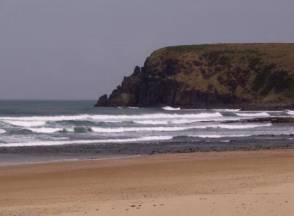 On the weekends I had fun experiencing South Africa. One weekend I went on a day-trip with Steve Wargo and other friends up the coast to Kei Mouth & Morgan's Bay, enjoying the beautiful Indian Ocean coastlines of South Africa. The next weekend I went bicycle riding with Willem Van Duijvendijk to the beaches of East London, and also visited a wildlife park where I got to hold a 3-month-old lion cub and stand face-to-face with a giraffe (I was on a platform and he wasn't! HaHa). The next weekend I went on safari at Inkwenkwezi Game Reserve not far from East London. It was a two-day event which included outings in a Land Rover to explore the African animals on the 10,000 acre reserve. We were provided with very nice tent accommodations out in the bush, but certainly not roughing it. The tents had hardwood floors, nice beds, electricity, telephones, coffee/tea, and nice cave-looking bathrooms with artificial water fall hot showers. They also fed us three fabulous meals. Mercy Ships crew were given a special discount so the two-day safari get-away only cost US$66 total, including transportation to/from the ship!
We were supposed to set sail from East London to Cape Town on Monday, 5 Sept., but because of bad weather the captain postponed our departure till Wednesday the 7th. As a result I didn't have much time in Cape Town before leaving the country on Sunday the 11th. Our sail across southern South Africa was fun except for some occasional queasiness because of high swells. Spotting breaching whales & seals was fun as was viewing the brilliant stars at night.
I also thoroughly enjoyed escaping the miserable August heat of Texas. August is winter in South Africa, but very mild ones. It was just perfect with normal highs around 70-75°F (21-24°C) and cooling off to about 50-60°F (10-15°C). It was clear and sunny almost every day, but pretty windy much of the time (makes for beautiful waves at the beaches).
The day we arrived in Cape Town I took the cable car up to Table Mountain, a must-see. Oh what an incredible sight that was; mountains everywhere, gorgeous coastline views, rock formations, flora & fauna, fresh air! I spent about three hours hiking the trails and taking in the beauty atop Table Mountain.
I was blessed to get to know fellow electrician Winston Myers from Cape Town while serving on the ship. The day before I left South Africa he and his family took me around the Cape Town area, specifically out near Cape Point. I spent the night with the Myers family and went to church with them on Sunday morning, where I was asked to share a brief testimony during the service. On my way to the airport that afternoon Winston and I were talking about how much we enjoy spontaneous adventures. "For example," I told him, "if my flight across the Atlantic has to make an emergency landing in--Accra, Ghana, for instance--it could be an adventure rather than an inconvenience." Wouldn't you know, there we were out over the Atlantic when the captain made a page asking for a medical doctor. Unfortunately, a passenger had suffered a heart attack so I knew right away we would be making an emergency medical landing...but where? It wasn't long before I noticed the flight map on the monitor in front of me had a course change--to Accra, Ghana! So that 18 hour flight across the Atlantic turned into a 20 hour one! But hey, now I've been to Ghana...sort-of!
Thank you for your prayers as I fulfilled this mission aboard that wonderful 53-year-old hospital ship. The Anastasis, by the way, is scheduled to sail to Liberia, West Africa after it's time in Cape Town, and will have several months of ministry to the poor and needy there, "bringing hope and healing."
Click HERE to read a front page article in the Lindale News about my trip to serve with Mercy Ships:
(they didn't get all the facts exactly right, but it's not bad)
Visit the Mercy Ships website: www.mercyships.org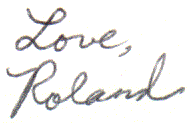 More South Africa Photos
(click on the thumbnail images to display larger ones in separate browsers)
East London
(ship right of center)

Close-up of Anastasis

East London coastline

Roland & the Anastasis

Roland with one of the many flame detectors & alarm units

Looking down from the top of the ship to the engine room

Roland & lion cub

Willem, Roland & Steve with lion cub

Roland with tortoise

Roland with giraffe

East London coast

Driving to coastline near Kei Mouth

Beach near Kei Mouth

Coast near Kei Mouth

Giraffe at Inkwenkwezi

Zebras at Inkwenkwezi

Wildebeests at Inkwenkwezi

Antelopes at Inkwenkwezi